Bukan berita yang ingin saya baca sepagi ini. Awalnya membaca tweet cnet ke berita Apple co-founder, Chairman Steve Jobs dies, awalnya saya penasaran apakah ini berita benar atau tidak. setelah saya baca memang berita mengenai meninggalnya ex-CEO Apple Steve Jobs. Kemudian membaca tweet @scobleizer dan beberapa tweet sesudahnya yang memberitakan meninggalnya Steve Jobs.
Apple Board of Director juga sudah memberikan pernyataan resmi, berikut kutipannya (sumber : marketwatch )
_
CUPERTINO, Calif., Oct 05, 2011 (BUSINESS WIRE) — We are deeply saddened to announce that Steve Jobs passed away today._

Steve's brilliance, passion and energy were the source of countless innovations that enrich and improve all of our lives. The world is immeasurably better because of Steve.

His greatest love was for his wife, Laurene, and his family. Our hearts go out to them and to all who were touched by his extraordinary gifts.
Saat ini halaman depan Apple memuat Gambar Steve Jobs (1955 – 2011).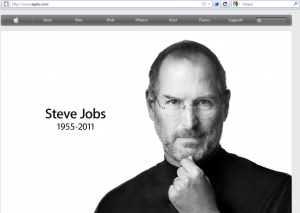 Apple juga membuat halaman Remembering Steve Jobs, Anda bisa mengirimkan memori, duka cita ke email rememberingsteve@apple.com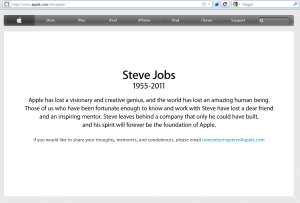 RIP Steve Jobs, terima kasih sudah mewarnai dunia kita, mengembalikan dan menggabungkan sisi manusia, seni kedalam teknologi.