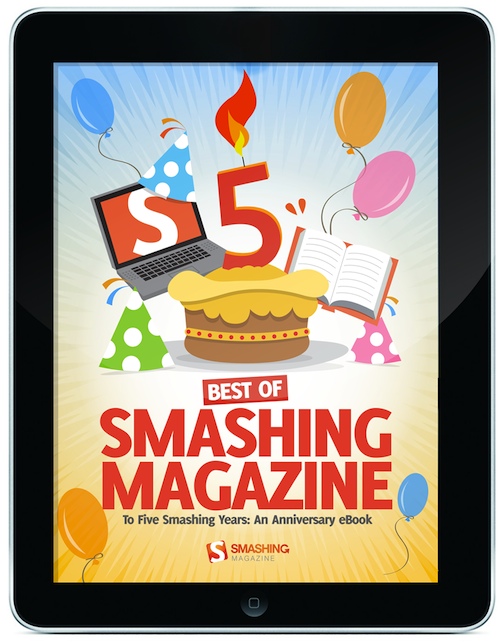 Smashing Magazine merayakan ulang tahun nya yang kelima dan dalam rangka perayaan ini Smashing Magazine memberikan sebuah ebook gratis yang berisi artikel terbaik selama lima tahun ini. Berikut daftar isinya :
"Thirty Usability Issues to Be Aware Of" ?—? Vitaly Friedman
"Ten Principles of Effective Web Design" ?—? Vitaly Friedman
"Clever JPEG Optimization Techniques" ?—? Sergey Chikuyonok
"Typographic Design Patterns and Best Practices" ?—? Smashing Editorial team
"Ten Useful Usability Findings and Guidelines" ?—? Dmitry Fadeyev
"Setting Up Photoshop for Web and iPhone Development" ?—? Marc Edwards
"The Ails of Typographic Anti-Aliasing" ?—? Tom Giannattasio
"Mastering Photoshop: Noise, Textures and Gradients" ?—? Marc Edwards
"Better User Experience With Storytelling" ?—? Francisco Inchauste
"The Beauty of Typography, Writing Systems and Calligraphy" ?—? Jessica Bordeau
"Web Designers, Don't Do It Alone" ?—? Paul Boag
"Making Your Mark on the Web Is Easier Than You Think" ?—? Christian Heilmann
"Responsive Web Design: What It Is and How to Use It" ?—? Kayla Knight
"I Want to Be a Web Designer When I Grow Up" ?—? Michael Aleo
"Persuasion Triggers in Web Design" ?—? David Travis
"What Font Should I Use?" ?—? Dan Mayer
"The Design Matrix: A Powerful Tool for Guiding Client Input" ?—? Bridget Fahrland
"Why User Experience Cannot Be Designed" ?—? Helge Fredheim
"Dear Web Design Community, Where Have You Gone?" ?—? Vitaly Friedman
"Make Your Content Make a Difference" ?—? Colleen Jones
"Two Cats in a Sack: Designer-Developer Discord" ?—? Cassie McDaniel
"Print Loves Web" ?—? Mark Cossey
Anda bisa mengunduh e-book ini secara gratis dari smashing magazine. Selamat Ulang tahun Smashing Magazine!